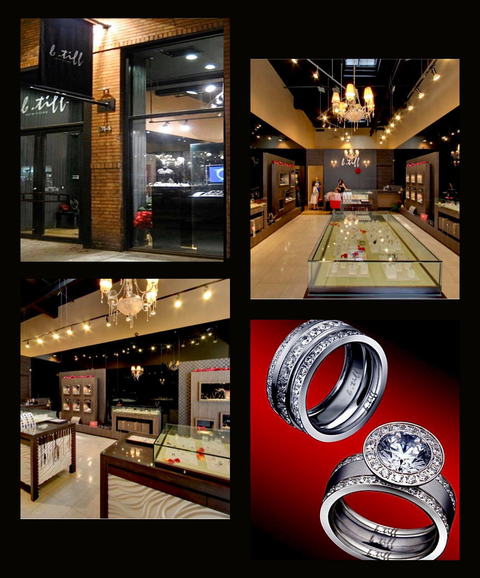 B.Tiff New York History
It all began in 1999 with a bit of naivety and lots of passion and imagination typical of young minds, B.Tiff New York was born and launched its first line of jewelry. 
The designers at B.Tiff visualized jewelry incorporating both most forefront artistic trends and cutting edge technology. B.Tiff employs the revolutionary "Tension Set" technique on most of the jewelry pieces, which through application of 200 pounds of pressure against the surgical stainless steel suspends the stone, B.Tiff Diamond Alternative, and allows the stone to emit maximum reflection at widest angles possible.
The B.Tiff Diamond Alternative is carefully selected by B.Tiff designers from a leading gem lab versed in the machine measurement of diamond brilliance and light dispersion. Each stone in each size category is a near perfect copy of each other in dimension, shape and workmanship. The stones reveal the "eight-point star" pattern resulting from their exact proportions and are classified as "D" color. The stones are bright and sparkly, display more fire than the best grade of mined diamonds, and never gets cloudy, even in the shower, pool, or spa water. They have a hardness rate of 8.5 on the Mohs Scale and are known for their white color and internally flawless clarity.
The pure strength of surgical stainless steel allows the stone to be viewed in its entirety from top to bottom offering a brand new appearance and texture. B.Tiff has found the use of tension-set technique to be more favorable than the traditional methods of Prong Setting, Claw Setting, and Cabochon Setting to showcase the stone. The combination of using specialty material - surgical grade stainless steel and B.Tiff Diamond Alternative with B.Tiff designers' knack of timeless designs resulted in accumulation of years of deep knowledge in creating impeccable products with practicality and distinctive appearances. This is what sets apart B.Tiff jewelry from other competitors.

Customers are quickly drawn to the new concept jewelries and B.Tiff was taken onto a wild ride studded with multiple stores in different continents and jewelry conventions across the country.
Fast forward to 2020, an unprecedently challenging year, no more stores and no more conventions. We miss live interaction with our customers terribly. Nevertheless, B.Tiff is still here, online, with you. Time and circumstances may have changed, yet B.Tiff strives to provide our services and products with the same determination and passion just like 20 years ago.
Come shop our jewelry with the same high quality and shine that will give you the needed glamor and smile in this very different time -
www.btiff.com