BG003G B.Tiff Double Wrapped Gold Plated Stainless Steel Cable Bangle Bracelet
Share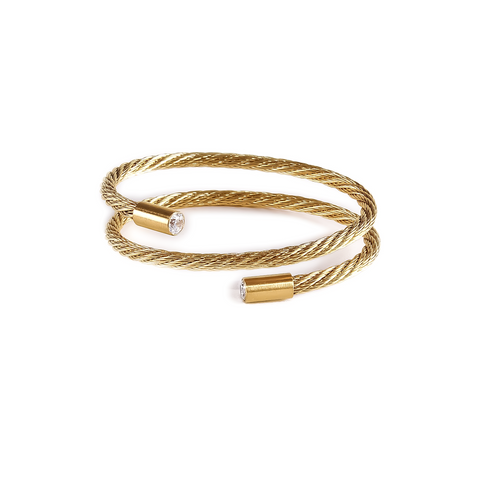 B.Tiff Double Wrapped Gold Plated Stainless Steel Cable Bangle Bracelet
You want a bracelet with an aggressive and modern design that gives you something truly unique. Our B.Tiff Double Wrapped Cable Bracelet is a special piece of jewelry that will give you an extra edge to your outfit, yet it's balanced enough to work in sophisticated situations. If you're looking for a powerful piece for your wrist, then this is it.
The cable part of the bracelet is made from durable surgical stainless steel and you can choose either natural silver, anodized black, gold or rose gold colors. All are nickel-free, resist tarnishing and are hypoallergenic, ensuring that anyone can wear this bracelet without worries. At each end of the cable, you'll find a sparkly .30 ct B.Tiff Diamond Alternative stone. Cut for the highest possible light reflection, these stones will add that little extra needed to complete the piece.
If you're looking for a unique and modern design that's a little aggressive, then you'll love this bracelet.
Specifications:
.30ct Round Signity Stars
Surgical Stainless Steel
Gold Color
Hypoallergenic
Width: 6mm
Thickness: 6mm
Product #BG003G