ER119W B.Tiff Shark Stainless Steel arrings
Share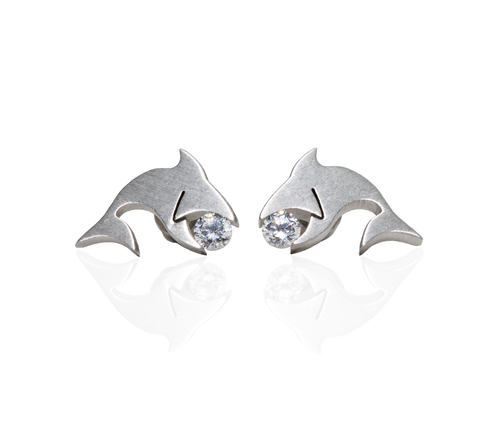 B.Tiff Shark Stainless Steel Earrings
The B.Tiff Shark Earrings apply a design philosophy to showcase movement in stillness. They are for the days that you feel playful and energetic and can also be worn to the most sophisticated events because they are just that lovely.
The shark design is made from our unique surgical stainless steel. Not only does it look as spectacular as sterling silver, but it's resistant to tarnishing, won't irritate your skin and it's highly durable, available in silver and gold color.  At the mouths of the sharks, you'll find a tension-set .20 ct B.Tiff Diamond Alternative stone with as much fire as a mined diamond and cut perfectly.
More women are self-gifting and these earrings will make the perfect gift for you. They use an organic design that is sensible and stylish, they only have the best materials and they're so lovely that you'll be happy to wear them everywhere.
The dynamic and balanced design catches the shark at the the most active moment radiating a joyful energy. The large tension-set stone that the shark has in its mouth, further enhances the feeling of vitality. 
With spectacular stones and metal, this is the perfect gift for your BFF and yourself. 
Specifications:
.20 ct Round

 

B.Tiff Diamond Alternative Stone

Surgical Stainless Steel
Natural Stainless Steel Color
Width: 9mm
Thickness: 3mm
Length: 15mm
Hypoallergenic
Product #ER119W